Tuesday briefing: How British-Somali citizens are disappearing to 'culture rehabilitation centres' | Somalia
Good morning. On Sunday, the Observer published a report I had been working on for the past eight months about "cultural rehabilitation centres" in Somalia and Kenya, where British citizens of Somali heritage are being held against their will. It's a complicated story of cultural identity, assimilation, and unlawful detention, but at the heart of it are the voices of those people who are left in dire situations abroad, with little to no help from the UK government.
Fadumo, Bilan and Hodan (all names have been changed) trusted me with their stories – all of them begin in England and all end up in a cultural rehabilitation centre in Mogadishu, Somalia. Fadumo was just 16 when she was sent to one such centre, after being told that she was going on holiday to Dubai.
Today's newsletter explains how young British-Somalis are ending up in these harrowing situations, and the blindspots in British society that mean citizens can disappear for months or years at a time. That's right after the headlines.
Five big stories
BBC | The BBC's leadership is facing renewed pressure after the corporation U-turned to bring Gary Lineker back to Match of the Day. After a deal was reached involving a review of the BBC's social media guidelines, opposition parties said that chairman Richard Sharp's position was untenable because of a separate row over his role in facilitating a loan for Boris Johnson.

Aukus | The UK's nuclear-powered submarine fleet could double in size as plans were revealed for new "Aukus" vessels based on a British design. The plans were unveiled at a summit between Joe Biden, Rishi Sunak and Australian PM Anthony Albanese aimed at countering Chinese influence in the Indo-Pacific.

Silicon Valley Bank | Global financial markets have come under severe pressure after the collapse of Silicon Valley Bank, despite governments on both sides of the Atlantic taking extraordinary measures to maintain confidence in the banking system. In the UK, the government brokered a deal to sell SVB's UK division to HSBC for £1.

Policing | Suella Braverman should consider her position for putting forward "cruel and heartless" immigration policies that discriminate against war refugees of colour, a former Conservative adviser in the Home Office has said. Nimco Ali's intervention came as Labour's amendment to block the plans was defeated after a heated debate in the House of Commons.

Culture | Dame Phyllida Barlow, described by the Guardian as "one of the art world's most celebrated late starters", has died aged 78. Barlow rose to international prominence as a sculptor only after retiring in 2009 after four decades teaching art. Read Adrian Searle's tribute.
In depth: 'There wasn't much you could do – you would even get into trouble for sleeping'
Families send wayward teenagers and young adults to "cultural rehabilitation centres" in the hope that they will straighten them out and "de-westernise" them. The truth is that the centres often operate illicitly and, as a result, the people in them are left to endure abuse, including physical beatings, shackling and solitary confinement. A lack of regulation and oversight and a preoccupation with profit has meant that the number of these centres have grown over the past decade, though there are no concrete figures to show how widespread they really are.
---
What are cultural rehabilitation centres?
Simply put, cultural rehabilitation centres are facilities primarily for Somalis who were born and/or raised in western countries, which claim to provide them with a strict education on their heritage and their faith. Young people are sent there by family, often parents, who feel that their child is in better hands abroad than they are in the UK.
These centres have not appeared out of nowhere. The practice of dhaqan celis (which loosely translates to "return to culture") is a well-known phenomenon within the Somali community, and used to generally refer to families who sent a child to stay with relatives in Somalia over the summer, or for a more extended visit. But in recent years it has increasingly meant that a person has been sent to a centre that offers a boarding school or boot camp type experience. One lawyer I spoke to described them as "detention centres". Some who end up there stay for as long as a year.
Parents pay hundreds of US dollars for their child to purportedly learn about their roots, their faith and the virtues of discipline. The young people I spoke to, however, said that they did not learn much, if anything at all. They spent most of their mornings reading the Qur'an, with a short break in the afternoon, and then continued reading until the evening. "You had to find ways to occupy your time, there wasn't much you could do – you would even get into trouble for sleeping," Fadumo told me.
Anything could be viewed as an infraction: incorrectly reciting the Qur'an, sleeping in, talking in a certain tone. The punishment could be anything from a brutal beating, to being held in a dark room for days on end, to chaining a person to a wall so that they could not sleep. Residents are not allowed to leave the facilities, nor are they allowed to tell their parents what is really going on.
---
Why do parents send their children away?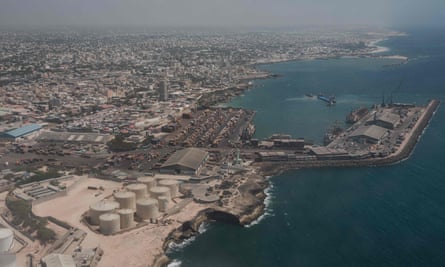 There is no universal answer for why families feel the need to do this. Parents have been known to send their children away if they believe that they are getting involved with gangs or crime, or because they have complex mental health problems, or simply because of a more abstract fear of cultural "corruption". Many Somalis who are living in the UK or Europe today are there because of the 1991 civil war which forced nearly 2 million people out of their country. When combined with social alienation in their new homes, the results can be troubling.
---
What are the laws around this?
After months of contacting embassies, government departments and legal experts, it has become clear that there is no adequate legal framework around this issue. While young people are almost always tricked into going to these centres, the cases I presented do not technically meet the legal threshold for trafficking. Kenyan and Somali authorities have raided a number of centres, but as they operate outside the purview of the law they seem to reappear frequently.
So far, it seems that western governments are saying that their hands are tied: Somalia is too volatile a country, and one in which they have little presence. But questions around prevention still remain. One of the young people I spoke to was known to British social services and was enrolled in a school – how did she disappear without anyone flagging it to the relevant authorities?
Given the profit incentive, there is little chance that these centres will disappear on their own. And the underlying cultural fears will take a long time to address. However, the government has a responsibility to protect its citizens – regardless of their heritage. Until adequate provisions are put in place, young people like Fadumo and the others I spoke to will continue to fall through the cracks.
What else we've been reading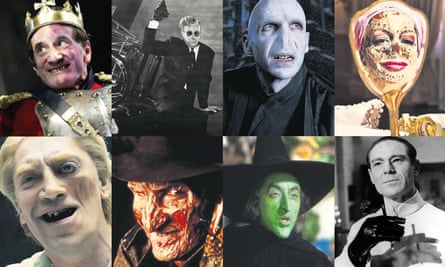 After the Roald Dahl rewrite saga, Jan Grue writes about his experience as a reader with a disability. His superb long read about the trope of the disabled villain (above) takes in James Bond and Game of Thrones, and notes that the true engine of recent sensitivity reading debates has been the interests of companies: "Their real sensitivity is to the market." Archie

No stranger to a daring endurance challenge, Rich Pelley spent a week dressing as Harry Styles. The result? Much charity shopping, an eBay bidding war and, er, pirouetting on the side of a bath. Hannah J Davies, deputy editor, newsletters

In this piece about the Gary Lineker affair, Jonathan Liew argues that much of the debate about his remarks has been based on "a honeyed, romanticised BBC that has only ever really existed in the imagination". Now the right's dominance within it has been challenged, he says – and that "scares the life out of them". Archie

Soup fans, assemble: the New York Times (£) has compiled a load of winter warmer recipes, including a lemony orzo and fish broth which apparently takes just half an hour to make. Hannah

After Everything Everywhere All At Once swept the Oscars, Catherine Shoard has an essential guide to how it got there. And Peter Bradshaw writes: "The film has gripped people because all of us ponder what we could have been, in different lives, different universes, as the result of different life-choices." Archie
Sport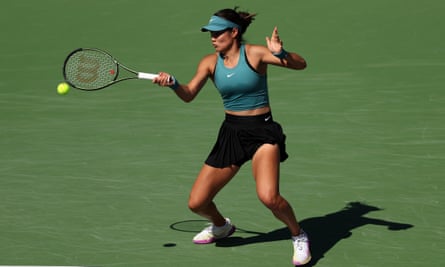 Tennis | Emma Raducanu (above) has won against 13th seed Beatriz Haddad Maia to reach the fourth round at Indian Wells. Her 6-1, 2-6, 6-4 victory was her first three-set win over a top-50 opponent. Tumaini Carayol writes that Raducanu has played with "total clarity" throughout the tournament and the result is "her first true breakthrough 18 months after her US Open triumph".
Champions League | Ahead of Tuesday's visit to Manchester City for the second leg of the first knockout round, Andy Brassell writes that RB Leipzig are a dangerous side transformed under Marco Rose, with new aspirations to be more than "just … a high-class talent farm." Meanwhile, Pep Guardiola has told Kevin De Bruyne that he must return to "the simple things" to improve his performance.
Athletics | The American Olympic champion Dick Fosbury, who revolutionised the high jump with a technique that became known as the Fosbury Flop, has died aged 76. Fosbury's revolutionary backward jump won him gold in 1968 and is now used universally.
The front pages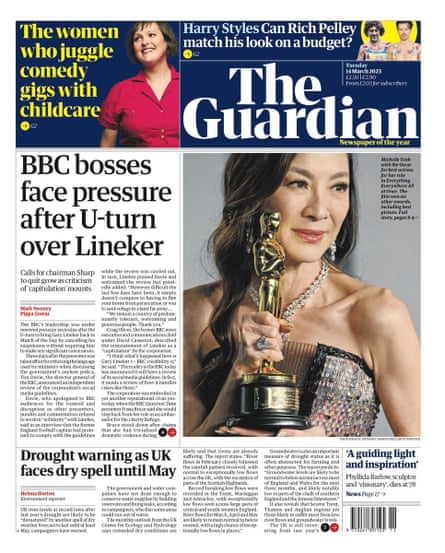 The Guardian reports, "BBC bosses face pressure after U-turn over Lineker". The i has a similar lead with "Pressure grows on BBC bosses over Lineker climbdown". The Mail characterises the entire saga as "A slap in the face for BBC licence payers".
The Sun and the Mirror carry the same headline: "Glitter back in jail", with the news that the disgraced pop star breached his licence conditions.
The Financial Times leads with the latest on the collapsed Silicon Valley Bank, with the headline: "Banks battered and rate forecasts reined in as SVB tremors spread". The Telegraph looks ahead to Jeremy Hunt's budget with "Boost for pensions as Hunt ready to raise cap". Finally, the Times says "PM strikes submarine deal to face new threat", as the paper looks at the Aukus meeting in San Diego yesterday.
Today in Focus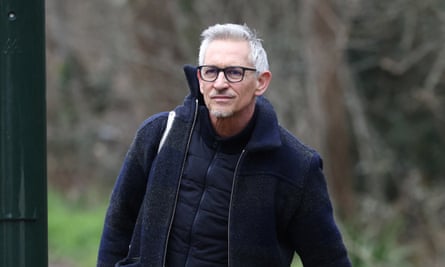 The BBC's spectacular own goal
A tweet by Gary Lineker led to his suspension by the BBC and set off a weekend of chaos in its schedules. Now with a truce agreed, Archie Bland reports on whether it can hold
Cartoon of the day | Steve Bell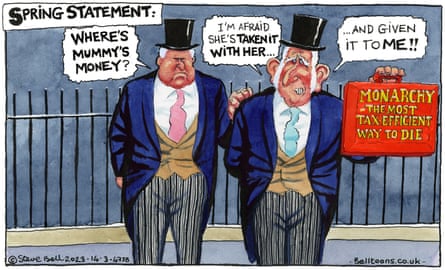 The Upside
A bit of good news to remind you that the world's not all bad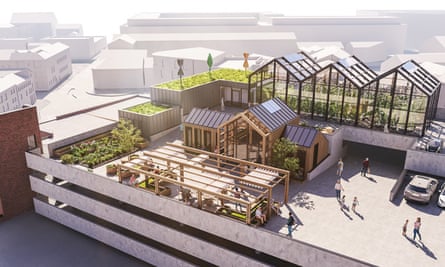 A grassroots organisation in Birmingham has come up with a plan to help ease the crisis of food sustainability: pop a farm on top of a car park. Slow Food Birmingham promotes hyperlocal food production and has sent proposals to the council to build a farm, glasshouses, a community space and a garden, as well as an education hub and cafe on the site. The aim is to provide fresh, locally produced food to Birmingham residents, as well as raising awareness about sustainable agriculture and reducing emissions.
"Our proposal is part of a system rethink designed to provide food security as we cope with a changing world," said Kate Smith, the founder and projects lead at Slow Food Birmingham. The group said the project was the first step of its vision to "turn grey space to green productive space with the needs and wants of the local community at its heart".
Sign up here for a weekly roundup of The Upside, sent to you every Sunday
Bored at work?
And finally, the Guardian's puzzles are here to keep you entertained throughout the day – with plenty more on the Guardian's Puzzles app for iOS and Android. Until tomorrow.


Nimo Omer – [source]